9mobile appears to be on a danger zone live support, losses 3.49 million subscribers within two years, and has lost 532,489 internet subscribers in just five months of 2019.
According to a data obtained from the Nigerian Communications Commission (NCC), 9mobile's mobile internet subscribers stood at 12.8 million in May 2017, but the figure dropped to 9.3 million in May 2019.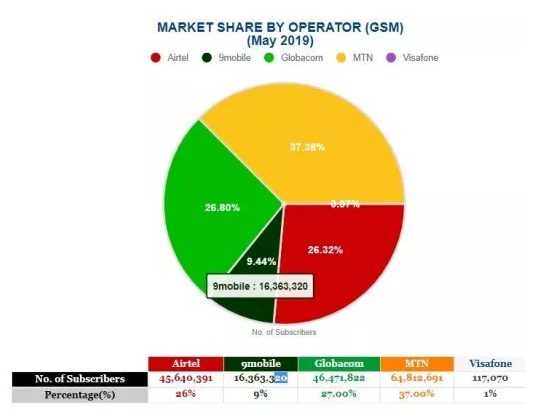 Within the past months (April-May 2019), MTN Nigeria added about 2.4 million internet subscribers. This makes it the largest gainer for the month.
The Second on the list is Airtel, with 595,093 internet subscribers added to its internet network, followed by Globacom which added 198,142. Meanwhile, Visafone added 8,991 while 9mobile recorded 595 thousand subscribers quitting its internet network.
Overall, MTN has 52.4 million internet subscribers, followed by Airtel with 31.9 million subscribers. Glo has 28.8 million, 9mobile has 9.35 million, while Visafone recorded 82,637 internet subscribers.
It will interest you to know that MTN is currently controlling the telecommunication market with 43% internet subscribers, follow by Airtel with 26% subscribers, Glo with 24% subscribers, 9mobile with only 8% subscribers.
Subscribers have recently been complaining about the high cost of data on 9mobile network, slow internet connection and data zapping.
The company keep losing subscribers while other service providers are heightening strategies and jostling to add as many more users to their networks as possible.
There is no affordable data subscription on 9mobile network aside of  1GB for N200 data plan in which only fragment of the Nigerian populations are eligible. If 9mobile continues in the downward trend in another 6 months, then the company will become a shadow of itself.
Source: Nairametrics