I'm sure you remember this package Airtel Unlimited 2G Plan launched 3 years ago but a lot of subscribers have abandoned the plan probably because as at that time, it was difficult to opt-out of the plan.
You can call this a nicodemous Airtel data plan because they don't talk about it, tweet about it or even advertise it. Airtel Unlimited Plan of N200 or Unlimited Plan of N500 is an old plan that works only on 2G network.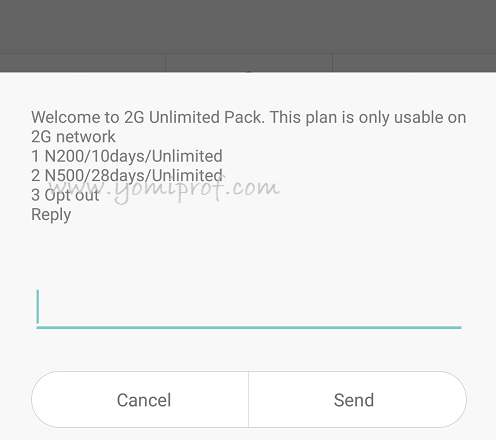 No matter the strength of your network, the plan only works if you switch your network to 2G only; and I'm sure it will serve you well if you are truly looking for cheap data plans.
Before you start jumping fences, flying airplane upandan, you must know these Facts about Airtel Unlimited for N200 or Airtel Unlimited for N500.
6 Facts You Should Know About Airtel Unlimited 2G Plans
1. It is an old plans that still work
2. It works on all devices except smartphone or modem that doesn't support 2G network
3. Upon subscription, it automatically deactivate any existing data plan
4. It only works on 2G network
5. No matter the strength of your network, it must be set to 2G network or else it will just be staring at you like ballot box
6. N200 Unlimited pack lasts you for 10days and N500 unlimited pack last you for 28 days.
How Can I subscribe?
Dial *482#. To opt out of the plan, dial the same code and reply with 3.
This plan has been there and only fewer subscribers are using it. If you want to opt in, I'll suggest you get another Airtel SIM for it to avoid story that touch the heart and affect the soul.