MTN 2.5GB for N500 – The international assembly for data allocation knows that we need data, but they are not willing to cut down the prices of data hence the recent silent increase in data for some of the telecom providers.
Just a few days ago, Glo launched 7GB for N1500, the same as 9mobile… MTN has decided to silently increase the 48 hours data plan with extra 500MB. Initially, when you subscribed to the plan which is specially meant for those who do more of downloading, or use more than 1GB every day, you'll be given 2GB, but for new SIMs, you'll be given 4GB. But now, the plan has been increased to 2.5, meaning new SIMs will get 5GB for N500.
It is a good initiative but if the plan can be increased to at least 4 days or 7 days, it will make a lot of sense.
How to Get MTN 2.5GB for N500
>>Login to your MTN App or download it here if you don't have it
>>Click on Hot Deals>>Daily and you'll see 2.5GB for N500.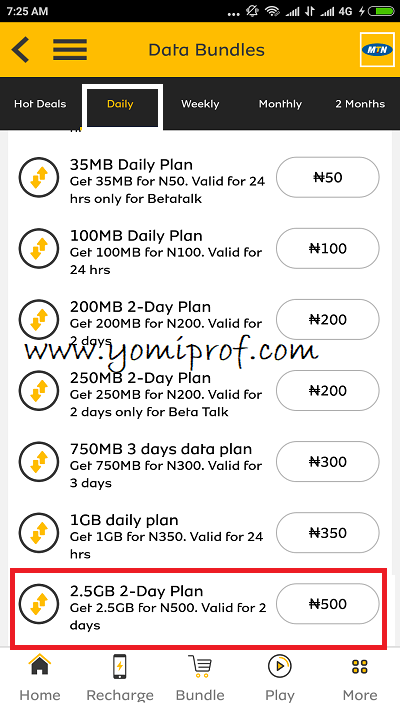 To enjoy this plan, I'll advise you activate it on the sim you rarely use for data and you'll be given double data bonus as same with the new sim.