It is time to stop using your MTN, Airtel, Glo and 9mobile sim to make calls because every subscriber will now be mandated to pay a tax of 7.5%. either you are sending SMS or you are making calls. You must pay a vat of 7.5%.
Subscribers are already complaining on social media that the VAT shouldn't apply to calls and data but apparently, the telcos vow to be dumb about it. 
So we try to experiment how much VAT is charged on Calls, and this is what we got after placing a 6 seconds call across to a friend. For 6 seconds calls, I was charged N2. 67k and for 10sec call, I was charged N5.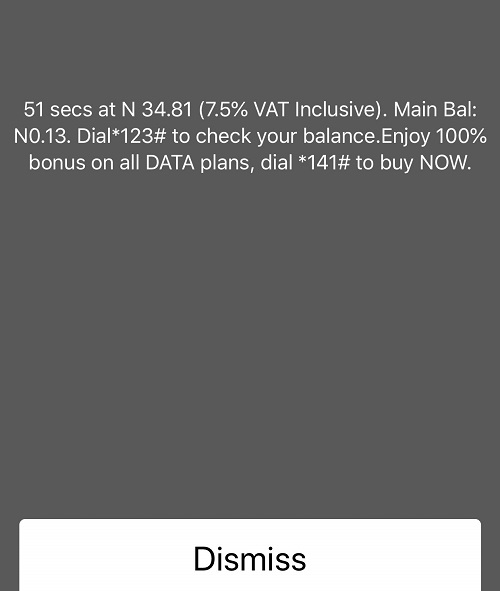 For SMS that was supposed to be N4, it is now N4.10 for every SMS you send.

Last month, President Muhammadu Buhari signed the country's finance bill into law, with a sweeping effect on Nigeria's fiscal laws. The government had said the new tax regime will not adversely affect Nigerians, but it seems they lied…
Association of Licensed Telecommunications Operators of Nigeria (ALTON) has notified Nigerians on the application of the new VAT rate on all purchased telecommunication products and services with effect from the 1st of February 2020.
"Dear Customer,

In accordance with the Finance bill 2019 signed on 13th January 2020, the Value Added Tax (VAT) rate has been revised from 5% to 7.5% with effect from 00:00 Hrs 1st February 2020.

"As a result, the prices of our data plans, devices & accessories have been revised to reflect the revised 7.5% VAT rate from 00:00 Hrs 1st February 2020. Thanks for your usual co-operation", a message from Spectranet, one of Nigeria's internet provider, reads.
7.5% VAT isn't for the rich or poor Nigerians, it is for everybody… Telecommunications, Electricity, Television, Food & Beverages, Petroleum companies will now collect VAT every time they bill you.
You'll pay tax for using Data, Calls or sending an SMS. 
To save yourself of some stress, I'll advise you use WhatsApp call if you have important calls to make otherwise you are on your own.
Share your experiences below in the comment.