As data competition surges high in the Nigerian telco market, Smile has decided to take the bull by the horn, launches unlimited data plan without throttling or FUP. The plan is called UnlimitedPlatinum.
Smile Nigeria said it will continue to set the pace with innovative products with its UnlimitedPlatinum. According to Smile, the UnlimitedPlatinum ensures that customers enjoy SuperFast, SuperReliable internet for as long as they want.
How Does it Work?
True to its name, customers who subscribe to Smile UnlimitedPlatinum, will for a period of one month have the luxury of unlimited internet of everything desirable; as far as their imagination can take them.
It offers data speed of up to 6Mbps, with NO data cap and NO FUP and with no throttling of data speed, and a validity period of 30 days.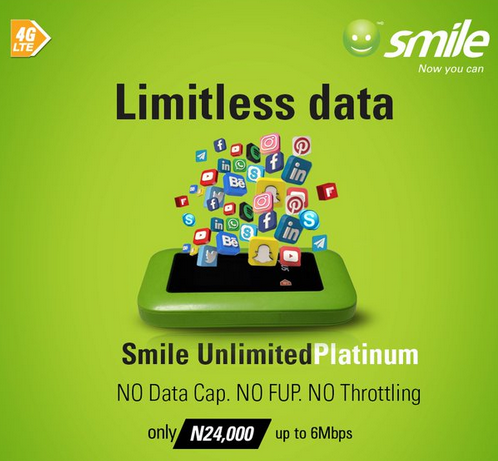 Difference Between Old UnlimitedPremium and New UnlimitedPlatinum?
The difference between the two plans is the speed. For unlimitedPremium plan, the speed is usually 3Mbps, but with the new UnlimitedPlantinum at 6Mbps, you can do as you want, download as you want without any fear of speed throttling for 30 days.
Even if you want to be downloading files of about 1 Terabytes every day either from Netflix or any other premium, your speed will not be throttled at all.
According to SmileNG, "… this is the mother of all unlimited plans because customers, especially heavy data users, will now enjoy SuperFast, SuperReliable unlimited internet for 30 days".
Smile UnlimitedPlatinum "is truly unlimited internet and can go as far as your imagination can take you".
Pricing
To activate the plan, you only need to cough out N24,000 monthly.
Let us know what you think about this new unlimited plan from Smile. You can also checkout Tizetti unlimited plans  for just N9,500 if you are within their area of coverage.
We like to hear your though in the comment.