Another update is available for telegram users, and here is what the update contains.
You'll now have a better experience when scrolling through shared media, join requests for Groups and Channels invite links, global chat themes on iOS and more.
Shared Media Scroll Bar
When you have a lot of shared media in a chat on Telegram, scrolling through them can be a long process.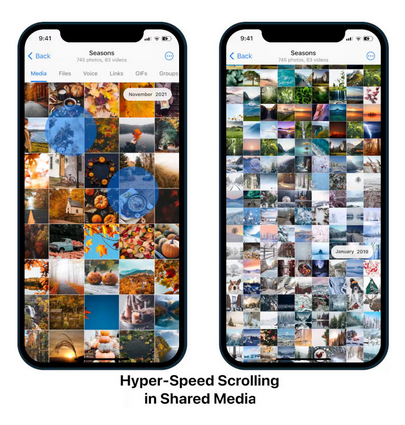 To help make it easier, Telegram has introduced a new date bar on the side of the page and users can also use a pinch gesture to zoom out for smaller thumbnails. Along with this, there is also a calendar view to quickly see media from a particular date.
Channel Invite Link
When creating additional invite links for a chat, admins can now enable a Request Admin Approval setting for more control over who is able to join and see the chat. These invite links can also be renamed to something unique for easier identification.
Some updates are rolling out to iOS that will allow to add chat themes globally to the app. You can add colorful animation background, day and night mode etc.
You can update your telegram message to v8.2.2 to have a taste of the new updates.