The popular chat messenger is getting a new updates to enhance its functionality this October. More upcoming updates have been spotted, and we've highlighted them below.
Three new features have been spotted which includes, online status, previous participants, and screenshot blocking, introduced by Mark Zuckerberg in earlier in August.
The new features is now gradually rolling out according to the latest report, and some beta testers who get the latest beta from the Play Store could probably have this feature right now.
How Screenshot blocking works
When a screenshot is taken, the recipient is never told, but the attempt is blocked for privacy.
Screen recording is also disabled while seeing a view-once image or video.
Since the new ability is limited to seeing once-only photos and videos, you can still snap screenshots of discussions with fading messages.
You can't forward, export, or save view once images or videos.
The recipient can still capture a photo with a second device, so be careful when sending view-once messages.
In the above screenshot, it's a complete black screen. In fact, some beta testers can't take screenshots to view one photo or screen recordings to view one movie. You can't take a screenshot because of the security policy, and a toast will appear; however, even if you use third-party addons to avoid it, the image will always be black. If you have WhatsApp enabled, you could perhaps understand exactly.
WhatsApp Group Polls
A further helpful feature that enhances your participation in groups is now being rolled out by WhatsApp. Thanks to the most recent version of WhatsApp for Android (2.22.21.16), beta users may now create polls inside group chats.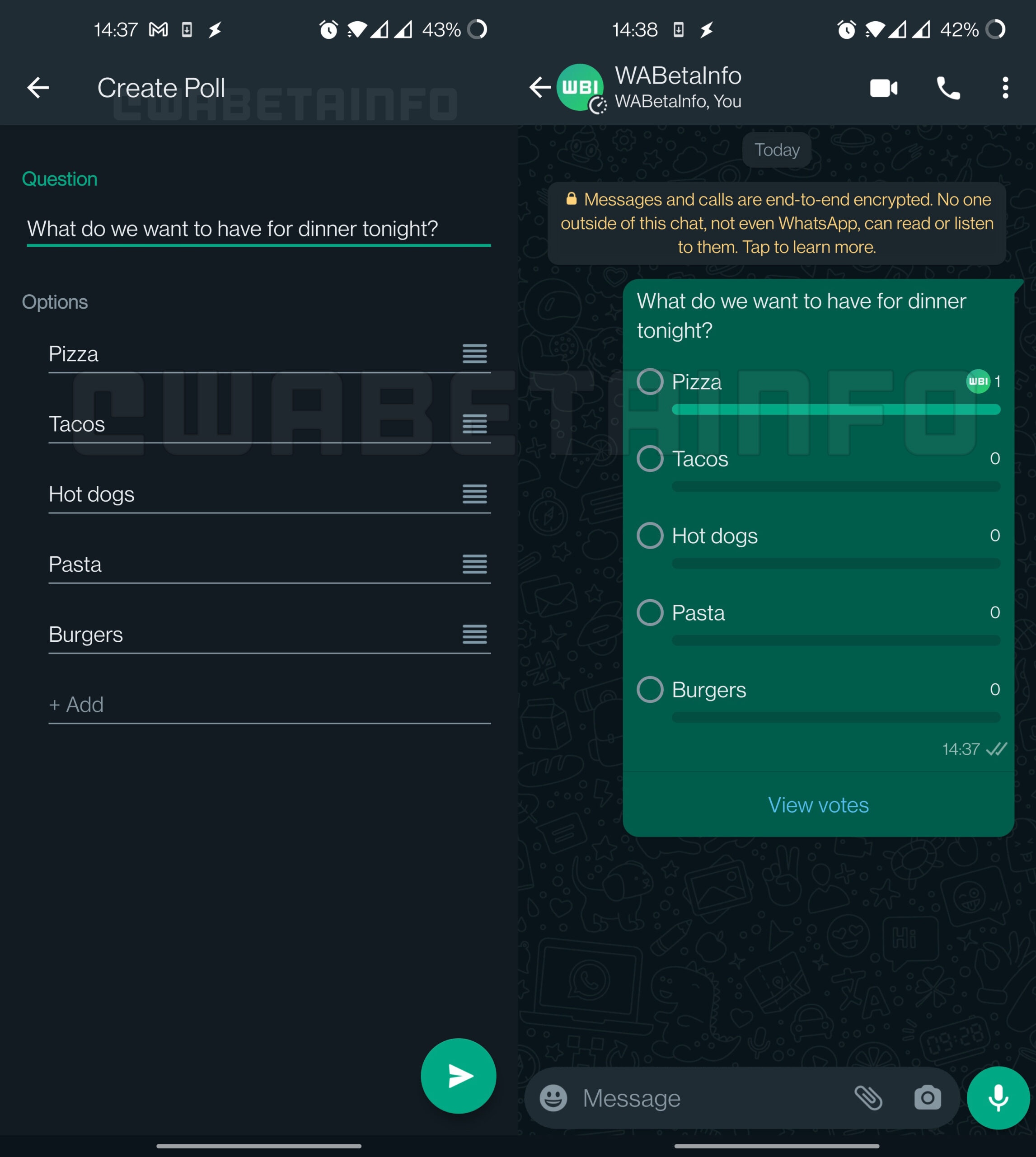 When you create a poll, you can add up to 12 options and you can even sort them. After sharing the poll with other group participants, they can pick more than one option while voting.
When there is a new vote, the poll is automatically updated in order to reflect the new result: you can see more detailed information about who voted within the poll results screen by tapping "view votes".
Though not all beta testers have access to the poll, but is gradually rolling out.