Guarantee Trust bank has now made it easier to convert your dollar into naira without you having to queue at the bank or exchanging at an aboki stand. If you have dollar in your Dom account, with the click of a button, you can convert your dollar into naira at the current market rate.
The new foreign exchange product by GTCO, the parent company of GTBank, allows a customer to change dollars to naira instantly on internet banking. Some customers are now seeing it bad market for black market operators.
Bank customers can now conveniently convert the dollars in their domiciliary accounts to naira, from the comfort of their homes or offices as banks innovate.
For now, GTBank is the only bank seen to provide this through its internet banking solutions as other banks are expected to catch up soon.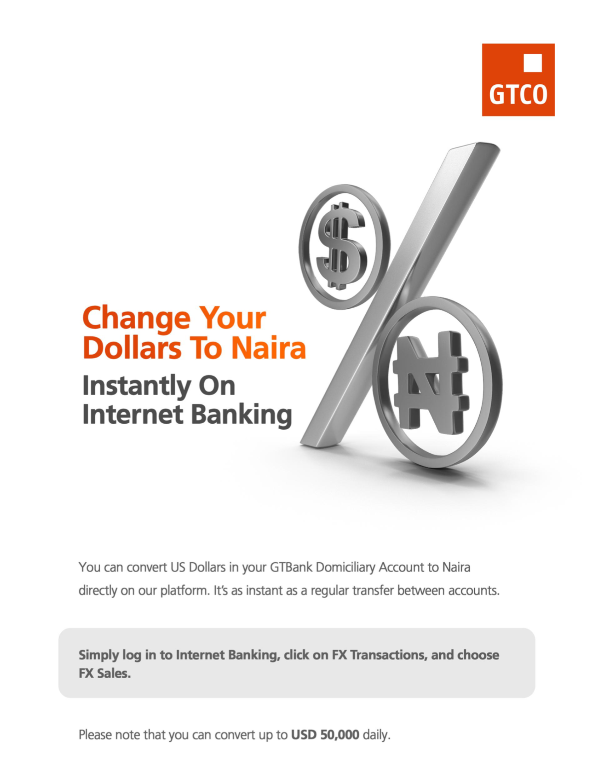 How to Convert Dollar to Naira on GTBank at Black Market Rate
Simply log in to internet banking
click on FX transactions
Choose FX sales
Choose the amount you want to convert to naira and within seconds you done. You'll see the naira equivalent of dollar you converting and it will reflect in your naira account after conversion
The bank said you could convert up to $50,000 to naira daily. However, to convert naira to dollar is not available, customers said.
What this means is that the risks involved in transacting with street traders, also known as 'Aboki', to convert your foreign currency – including the possibility of accepting fake currency and higher exchange rate – will be minimal, a Lagos-based investment banker said. The banker said this would also enhance dollar inflows into the country's foreign exchange (FX) market.