Its weekend and we should ride with this. I wonder what the
world will look like without the web; it will just look like a typical market
square for trading. I've asked myself over again this question "who owns the
web?" and I've been unable to proffer a reasonable answer to that question.
So many of you will bear me witness that the web is changing
lives every day. And perhaps you
typed a mind bugging question on search engine
before you finally landed on this blog to retrieve the information you want. I
personally learn't blogging/programming via the books I read on the web.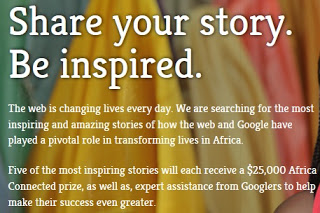 On this note, Google the largest search engine in the world
partnering with
Africa Connected
is focused on showcasing everyday success
stories being made with the help of the web and Google. How has the web powered
you? Have you achieved success since getting connected to the web? Share your
story and you could get funding to help grow your success.
They are searching for the most inspiring and
amazing stories of how the web and Google have played a pivotal role in
transforming lives in Africa.
Five of the most inspiring stories will each
receive a $25,000 Africa Connected prize, as well as, expert assistance from
Googlers to help make their success even greater.
To Share your stories, click here