Good morning guys,
I recently noticed a lot of people are still having problem rooting
their Android device which is not suppose to be so. Though I have created a
thread like this before but I will suggest you check
here
to see if you will
find the method for rooting your device in the comments sections; if not, drop
your phone model here and you will receive the rooting procedures.
Someone demanded for the easiest way to root P5
and I'll quickly drop the procedures
Requirements Before Rooting Techno P5
==>A computer
==>Internet connection
How to Root Techno P5
2.
If it is not present, download the
fastboot.exe file
here
and place it inside the SDK/Tools (or Platform-Tools)
folder. This will be the same folder with adb.exe in it.
3.
On your phone or tablet, go into the settings
and open the About Phone/Tablet menu. Tap the Build Number seven times. This
will enable Developer Options in the main settings menu.
4.
Turn on USB Debugging in the Developer
Options, and plug the device to your PC via USB cable.
5.
Back on the PC, go to the folder where
you placed the fastboot.exe file and open command prompt window.
6.
In the command prompt, type adb devices,
then hit enter. The window should show a device ID.
7.
Type adb reboot bootloader in
the command prompt and hit enter. Your device will reboot into bootloader mode.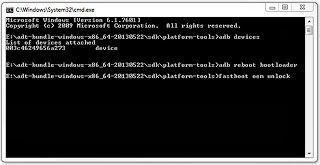 8.
Now type fastboot oem unlock and
hit enter. The device will pop up a warning as seen below. Select yes, but be
aware this is the step that wipes the phone or tablet.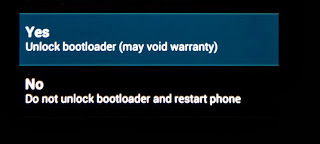 9.
On your PC download the
TWRP
recovery
or
ClockWorkMod
(varies by
device) and
SuperSU
root package. The
versions change as new OS updates come out, but a quick search on
XDA
will get you the most recent version. Put the recovery
file in the folder with ADB. Get your device back into Android and transfer the
SuperSU zip to the internal storage.
10.
With your phone or tablet in bootloader
mode again, type the following into the command prompt: fastboot flash
recovery twrp.img, then hit enter. Substitute the MWN file name if you used
that. This installs a new recovery over your old one so you can flash unsigned
zip files.
11.
Finally, disconnect the device from
your PC and use the volume rocker to navigate through the list of options in
the bootloader. Choose the Recovery option and select it using the power
button. Once in the recovery, find the option to Install a zip from the SD
card, then select the SuperSU zip. And that's it. You should now see your device rooted.