So many of
Android
users experience drastic network flop
recently due to the issue of mtn disabling UDP on all tunneling vpn. And a lot are
still having issues with
Troidvpn
due to lack of ICMP and their server is always crowded.
But I have a good news for us this evening; just relax and read on.
on Android device, relax and chill because tomorrow TroidVPN will be
lunching the ICMP protocol version of It's vpn. But it's already active right now and only the
test version is available in order to correct some noticeable flop before it
will be lunch.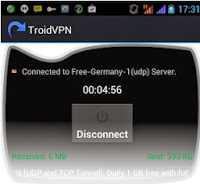 How Can Get The Test Download Link?
Note:
Before you download, unistall manually the older Troidvpn version on your android device.
Test Download LINK :
http://troidvpn.com/ICMP.apk
UDP & TCP VPN – > No ROOT
Required. Minimum Android 4.x.x or above.
ICMP VPN – > ROOTED Device Must with Android
4.x.x or above.
————————-
Unlimited Browsing Daily:
————————-
Unlimited Sessions In a day.
In Each Session You will get 40 MB without any
speed restriction.
5 LOCATION – 5 FREE Server.

No more Server Full message.

It will be available on Google play next week for download. TroidVpn ICMP version, a better replacement to
Droidvpn
should work perfectly with your rooted android device. Please test it Before it
will be lunch tomorrow. I expect everyone reading this right now to have rooted
their android device.
My job is to provide cheap information that will make
internet surfing easier for everyone.
Please feel free to relate your questions using the comment
box.