Good morning guys, I know we are rocking the
free droidpremium vpn
. But it baffles me because not everyone is able to enjoy this
free
vpn
. But have got something else for you; just sit tight and read through.
Thanks to Prince for this info and others who inbox me. Let me quickly dash into the main thing guys.
Troid vpn
is a new vpn for
Android
users; works like
droid
but different from droid vpn.
It allows you to use 1GB free data per day. Unlike
droid which only permit 100mb for free account, troid permit 1GB free data daily.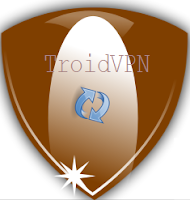 Benefits of Using TroidVpn
==>1GB free data daily
==>Fast in connection
==>No registration required
==>Allow you to connect to 8 free servers from 5
locations (UK , USA , DE , NL , CA)
==>It is free for use.
==>Rooting is not required
Can it work on all Android Device?
It works perfectly on all android
device with minimum version of 4.0.4 and above.
How Can I Get Troid VPN
==>Run and install it on your device
==>Set it to UDP port 500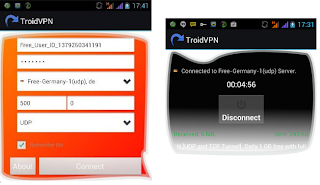 ==>Connect and enjoy the speed.
This TroidVpn is new in Android market, fast and secured,
bypass restricted i.p addresses and works both on unrooted or rooted android
devices including Tab 3.
Finally, make sure you have an active
BIS
subscription before you click on connect.