Good morning friends, I know independence is still rocking,
Tunnel guru is still rocking and
chocolate
is still rocking. To those experiencing
problem on their
Android
, iPhone or pc due to internet issues, please report them
here lets solve it together. I'm fully online today. One of the best ways to
enjoy chocolate tunneling software is to have your own server, but you can create your own free vps
here
.
One of the largest and stable network across Africa
Airtel
mobile network is currently running a promo and I think every airtel lovers
should participate in it because you stand a chance of winning a Samsung Smart
phone.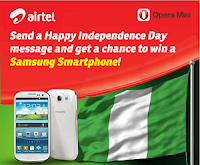 All you need to do is to create a unique happy independence
message that every body will have no choice but to like, send it to your love ones and you stand a
chance to own your Samsung Smart Phone
How Can I Participate?
1.

You need an operamini browser to participate or
download the latest version
here
3.
And follow the instructions there
to create your unique mind blowing message.
The secret is this, once your message is created share it on
Facebook
and encourage your love one's to like the message. That's all!
Remember, that you don't have anything to lose.