If you are still on 2go then I'll have more reason to
conclude that you are still living in the primitive era of ideology because it's
no longer in vogue as there are more professional messaging apps available for
all. Whatsapp without much doubt has actually ripped 2go off its glory without
any apology.
Of recent, I came in contact with a very great app of over 4
million users which is directly competing with whatsapp and even better than
whatsapp. I can boldly tell you that few years from now, just like whatsapp
ripped off 2go's glory, this unique app is going to rip off whatsapp glory.
Telegram
is a messaging app that works exactly like whatsapp
and even better than
whatsapp
. Available for all platform including PC. One thing
I love about this messaging app is the unbeatable features that it carries.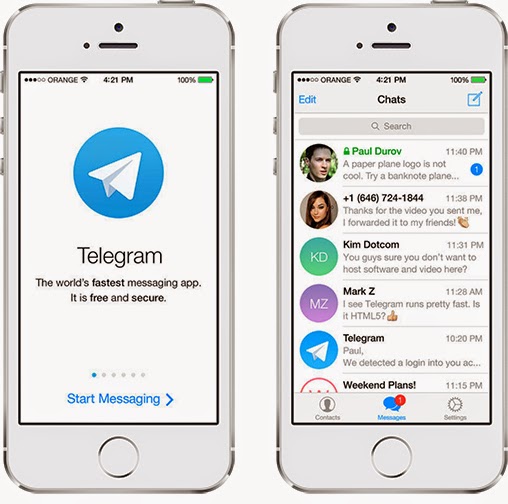 Why You Should Use Telegram
==>It is free forever compared to whatsapp
==>It has no limit for media or chat upload compared to
whatsapp that has limit of 16MB. Meaning if you want to send file of up to 1GB, it will deliver in minutes.
==>You can access your messages from multiple device
==>No adds, no subscription free, no expiry date unlike
whatsapp
==>It's the fastest messaging app ever.
==>It's available for all device including redundant
Nokia phones.
So if whatsapp has rejected your device before, opt into
telegram.
Where Can I Download It?
==>For Android, download it
here
==>For iPhone/iPad, download it
here
==>For Blackberry device, opt into App world and search
for "telegram" and download it
==>For Window phones, download it
here
==>For Nokia phones, download it
here
==>For Desktop users, download it
here
For other infected, rejected, buffeted and redundant device,
kindly contact me for an alternate download link.
One thing I love about this messaging app is for the fact
that it's big boy's apps. Opt in let's keep the ball rolling.