Fortunately enough, root genius only succeeded in rooting
Infinix Zero 1GB/8GB
Rom and the other Infinix Zero 2GB/16GB Rom has been
proving unethically stubborn to root. But a rooting kit has been provided below
that will guide you through in easy steps to root you
2GB 16GB
Infinix Zero
.
Just follow it carefully and I bet, at the end you'll smile.
Follow These Steps Below
==>Step1: Copy the downloaded Super Su to the Root of
your SD Card
==>Step2: Create a new Folder on your Desktop, Name it
"Infinix CWM" without quote then Extract the downloaded SP Recovery
Flash Infinix 16+2 to the folder (Contains two files; recovery+Scatter File)
==>Step3: Create a
new Folder on your desktop name it "Sp Flashtool" without quote,
Extract the zip file of Sp Flashtool navigate to the folder you created earlier
"Sp Flashtool" on your desktop and extract it there.
==>Step4: Run Sp Flashtool as Administrator, it will pop
"no scatter file selected" click ok. Click on the Second bar where
you see Scatter-Loading browse where you extracted SP Recovery Flash Infinix
==>Step5: 16+2 open the folder named " Infinix
CWM" and select the scatter file.
==> Lauch it and Click Normal wait it will update your binaries and
then ask to reboot
==>Step6: Turn Off your phone and wait for like 30secs
and Hit the Download then plug your Infinix back to the Pc. When you see the
red link you're good but it dint display, check your drivers to confirm if you
installed the one meant for your phone.. After the Yellow Link shows, and OK
sign, unplug your device.
==>Step7: Now Hold the Vol Up and Power button for 5 seconds, when you see
Infinix on your screen, release the power button while you are still holding the Volume Up button.
Your Recovery will display and you'll see something like Reboot system now (see the image below)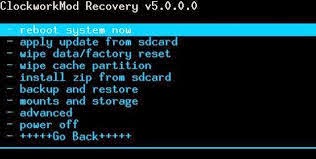 ==> Step8: Choose install zip from sdcard– to Choose zip from
sdcard use vol up and down scroll up and down then choose the
Update Supersu file from the root of your sdcard. Scroll to yes and
install, after a successful installing go back and reboot. Open Playstore
Search for SuperSu it has # round triangle icon then update the SuperSu App
==> Step9: Lauch it and Click Normal wait it will update your
binaries and then ask to reboot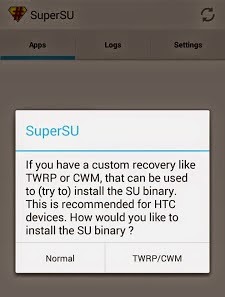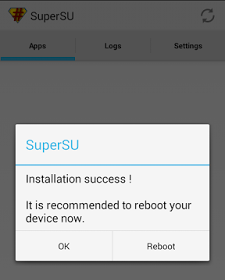 Now your Infinix Zero 16GB has been successfully rooted. Go straight to Google Playstore and download root checker to verify your root status. Don't be left in isolation, ask your questions.