I'm
pretty sure you must have been seeing different advert of black Friday
most especially from all this e-commerce
website like
Kaymu
, Jumai and Konga. And I know some of you will be wondering
what on earth is special about Black Friday. Is it that the Friday will be
black or what?
Black Friday is a unique day in which
most businesses records the highest sales and profit ever. Not only that
but goods are extremely cheaper than what eyes can see. I can't imagine myself
getting a laptop of 80K for just 39K. One of the best times to get your desired
stuff online or anywhere else is on Black Friday.
Konga Black Friday
is just by the door
and they are giving out mind-blowing discounts of up to
70% on every item. Have you ever imagine you getting a Hard drive of
15k
for
#5,000
or you plan to get a mobile device of 47k, and amazingly, Konga gives you for
23k
…? That was what happened last year. Find out
here
Jumia Black Friday
is tomorrow and
if you've not gotten your own Double awoof voucher, please do that and utilize
this season.
DealDey
is also not left apart on
this platform but guess what? Dealdey is giving out 77% discounts on some of
their items… It is not common but only for one day. To get your own
FREE
special Voucher from DealDey Black Friday,
click here
…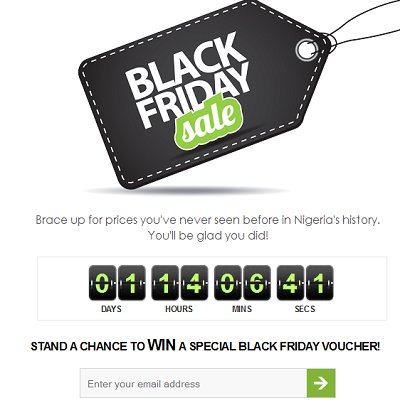 Kaymu is not left out on this, and they offer free delivery anywhere you are in the world… Chop Knockle!
You can find out more about
Kaymu Black Friday
here
Are you ready?