Being a cheerleader of your device gives you endless super ability to tweak, twist, and transform your
device the way you want it so long you have super user priviledge. I'll quickly present you with an
alltime how to root any Android device using this simple app.
The latest
Infinix Zero
is one of the latest device that is
currently trending and frenzy, if you haven't order for your own, do that
here
.
Requirement
==>PC
==>Disable your antivirus
How Can I Root Any Android Device Including Infinix Zero?
Root Genius is One click root tool designed to work on Windows
Computer. It helps user to root their Android Smartphone in single click. Here, we are going to guide you
through on how to use Root Genius to
root any Android Device starting from the latest infinix zero.
==>Enable USB Debuggin on your Android Smartphone. To
enable USB debugging, open Settings>> Developers option>>> USB
Debugging >> Tick to Enable
And for Android 4.2.2 or above, to show this option Go to
Settings>> About Phone >> Built Number (Tap on it for 5-8 times).
==>Download
Root Genius
Application on your PC
here
,
launch it
==>Once it's launched, connect your Android device to the
computer (with USB Debugging enabled).
==>Once your Infinix zero or any other Android phone is
connected successfully to the computer, Root Genius will automatically detect
your Android Device.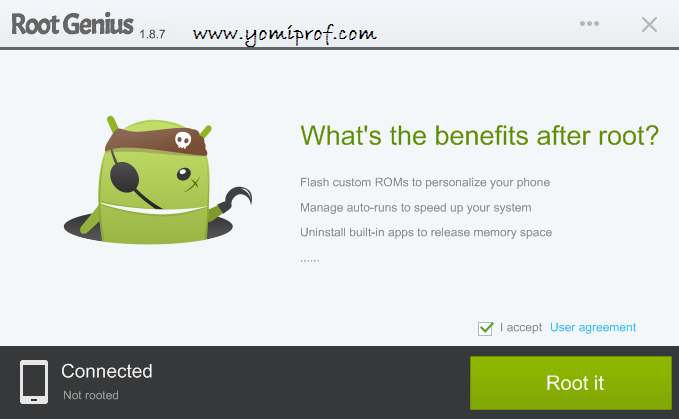 ==>Now, click on the "Root Now" button to begin the
rooting process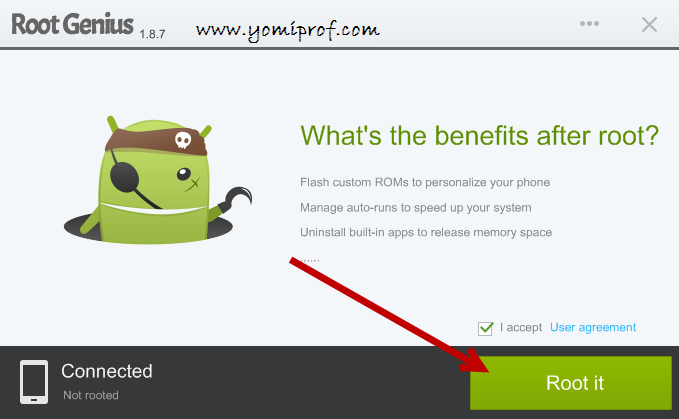 ==>Root Genius will automatically "Root" your Android
Device and install the KingUser Application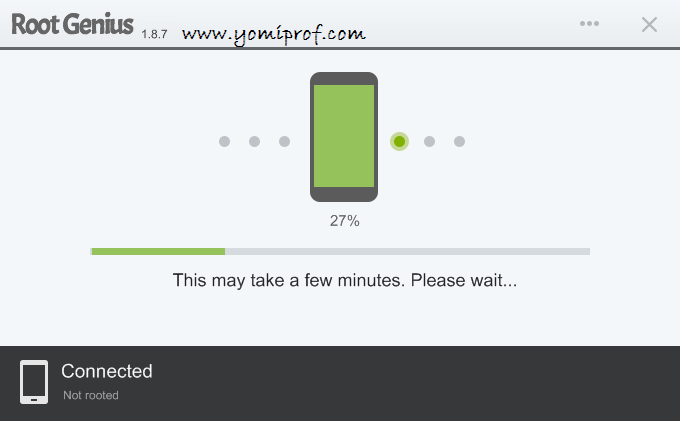 ==>Your Android Device is rooted. To check if your
Android is rooted correctly, open Application Menu, there you will be able to
see a new app installed, called KingUser. If this app exist, it means your
device has been successfully rooted.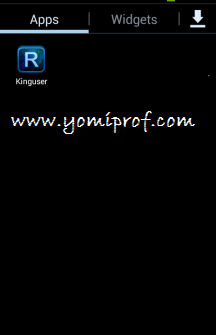 Alternatively, you can go to Google play store and download
RootChecker app
to verify your root priviledge.
Please Note:
1.
This app works for any
Android Phone
/Tablets
including the latest
Infinix Zero
plus any Android device you've not been
successful in rooting.
2.
No Data Loss: With this rooting method, you won't
loss any data like contacts, pictures, videos, music etc.
3.
Warranty Void: Your device warranty maybe void
after following the above tutorial
4.
How To Unroot: To unroot your Device, Open
KingUser on your Device >>>Settings >>> Remove Root
Permission and you are good to go.
5.
This app was created by
SJRoot
Developer (All
credit goes to them)
Please kindly let me know if you've tried the above tool to
root your Android device, if it works for you, which Android device and model
of the device. If it didn't work for you, drop your device name and a solution
will be provided using the comment box