How will you feel if your smartphone
falls into the water and stays inside the water for upward of 30min without you
being aware? What will be your first reaction the moment you notice it? I've
had series of encounters with people who unknowingly their smartphone slide
down inside full buckets of water and that marks the end of the Smartphone.
What if you are told that your device
can stay inside water for upto 30min without any single damage; What if you are
told that your device can be resistant to scratches, spill or screen damage
without you using Phone porches or screen guard.
I know your ears are now standing, and
your two eye balls are glued. Relax and read further.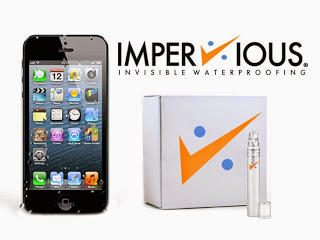 IMPERVIOUS.
Impervious is an invisible nano spray
(1000x smaller than a human hair) with superhydrophobic-properties. When
applied externally to your device, Impervious protects against spill damage and
screen scratching.
When fully applied (outer+inner
components treated) Impervious is classified as (IPX 7). This protects your
devices against accidental submersion and can withstand (1) meter or (3) feet
of water for up to 30 minutes.
See this 1min video of what IMPERVIOUS
can do below
How Can I Get It?
If you are in a position to get it,
will you get it or rather stick to your ordinary phone casing?