In as much as we are trying to cut down excessive data
subscription on all devices, Telecom companies are equally trying their best to
cut down excessive data consumption as Glo mobile officially introduce
Universal data plan that works across all device.
Glo recently introduced 1GB for N1,000.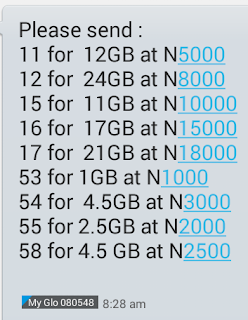 Will This Work on My Device
This plan works on all devices including iPhone/iPad, PC,
windows and if you permit me to list the rest, upcoming Nokia devices.
How Can I Subscribe for This Package?
==>Load N1,000 on your glo sim and dial *127*53#
Your package will be given to you and it will last you for
30 days.
So right now you have the choice to choose the best lesser
package for your device.