I think if third party agents can put their head together
and bring out something like this, then Internet surfing will be somehow easier
for everyone. Of recent, I make a post on how you can surf with
Mtn Cheap Data Plans
provided by a third party agent and of a truth, it's extremely cheaper
compared to the normal Mtn 1GB for #3,500 that charge you mercilessly just like when
Germany ripped Brazil off it's glory.
Well, I came to discover a new third party agent who
decided to make internet surfing cheaper for all Etisalat users with good
reception in their vicinity. This
Etisalat
Cheap data plans is not a tweak or a
trick but a legal act purchased directly from the
Etisalat Mobile Partner
and
then resell it to their customers at a cheaper price. You too think of it, why
will you use almost #4,000 to get 1GB when you can get it for just #1,500.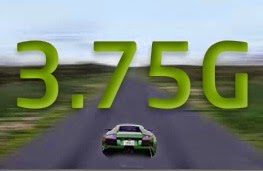 The most interesting thing about this cheap etisalat plans
from Mobility.ng is for the fact that it works flawlessly on all device
including bb10. Mind you, BB10 device is a romantic device that accepts even
normal data plans.
How Does It Work?
MobiBlaze is a new affordable mobile internet plan that gets
you closer to your dream of more affordable mobile internet service. They Etisalat's
3.75G EasyBlaze service to you at a more cheaper price.
1GB – cost #1,500 instead of #4,000
250MB – cost #500 instead of #1,000 +
500MB – cost #1,000 instead of #2,000
All data plans have 30 days validity!
How to Subscribe
Make payment for the data size of your choice via Online
Transfer, Mobile Transfer, Mobile Money, Quickteller or Cash Deposit into their
Bank account directly. You can visit their site
here
for more info.
Don't forget to ask your questions if you are confuse… My
job is to bring cheap internet surfing closer to you.