Are you planning to buy a smartphone, laptops, fashion, electronics, baby clothing,
cosmetics… everything is on sale! All at unbelievable discounts!!
Konga
will be having 4 hours of unbelievable discounted
sales on 12th of October 2015 and according to them, they'll be
giving discounts up to 80% discount.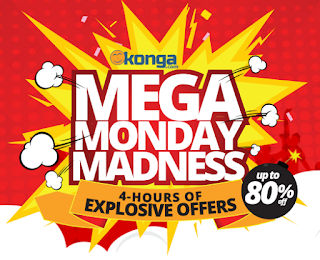 I just can't image a Laptop of N78,000 being sold for
N25,000. The discount will be for just 4hours so if there is any gadget you've
been eyeing on Konga, save your cash till Monday and grab it at a lesser price.
UPDATED
The portal is now open, and it seems more of the huge discount goes to fashion and not gadgets.
Check here
to see what you want.
I'll keep you posted about it.
#MondaMegaMadness