RoBoHoN is a phone you have never seen
before.
A phone in human shape.
A phone that you feel like talking to.
A phone that also wants to know you.

That is little RoBoHoN's big dream. Don't you want to take RoBoHoN with you everywhere?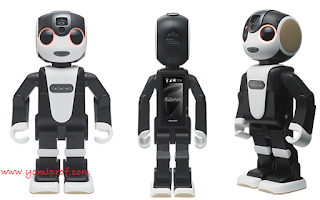 It is a robotic phone that can walk, talk, identify people
by facial recognition,  and can do
everything every normal phone can do but in a more unique way. 
SPEC
Height
Approx. 19.5cm
Weight
Approx. 390g
Network
3G/LTE/Wi-Fi®(802.11b/g/n*)
CPU
MSM 8926 1.2GHz (quad-core)
Display
Approx. 2.0-inch (QVGA)
Function
Phone,
Email, Application
Search, Camera, Projector
Voice recognition
Face recognition, Walk, Sit up
3G/LTE/Wi-Fi® (802.11b/g/n*)
* 2.4GHz only
The release date and price is yet to be determine. Also you
can see the short video on how it works below
Won't you like to have something like this?