This is mostly common on android devices among all errors "Unfortunately,
System UI has Stopped". When this happen , your smartphone will be less
responsive, and some of your apps will seize to work.
This mostly happen due to so many reasons e.g recent app updates, Google app update or
third party installation.So long you are using an Android device,
Tecno
,
Infinix
,
Samsung
,
Xiaomi
etc, you may experience this error and here is a simple fix
below;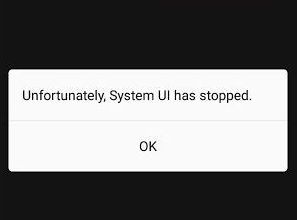 How to Fix System UI has stopped working?
There is no one way of fixing this error message but in most cases, the
first method is recorded because it has helped fix
Method One
Restart Your Device: with a simple restart, the error is fixed without
the need for any other solution. So before you go ahead with any solution try
out to see if the Error still persists and based on that you can go ahead with
the other solutions mentioned below.
Method Two:
Uninstall Google Update:
Go to
Settings
–
>
then tap on
Application Manager or App
->
search for
Google App
and
tap on it -> now tap on
Uninstall updates
option to stop the updates. Restart your Android device and check if the Error
is fixed or not.
Method Three:
1)Navigate to your device "Settings";
2) Select "Applications", tap on "Menu";
3) Select "Show system application" in pull-down menu;
4) Then find "System Interface" among all applications. In
"Memory" section perform clearing all data and cache.
Restart your device and everything should be back to normal. Android device
is like a bae and you are the boo… Take good care of it and you won't have any
problem.