According to the latest report as released by counterpoint's
Market Pulse for July 2017, Huawei has surpassed Apple to become the second
largest smartphone company in the world. This feat was achieved consistently
for June and July.
And even August sales are looking much stronger for the
Chinese firm. Though this feat could be temporary considering the fact that
Apple will soon drive in the next phase of iPhones into the market but you
never can underestimate the power of Chinese brand.
Samsung retained the first spot; while Apple took the trophy
for the best selling models for the month of July.
iPhone 7
and 7 Plus captured the first two
spots,
Oppo's R11
and A57 came in third and fourth. Other devices that made it
to the list include the Galaxy S8,
Xiaomi Redmi Note 4X
and Samsung Galaxy S8+.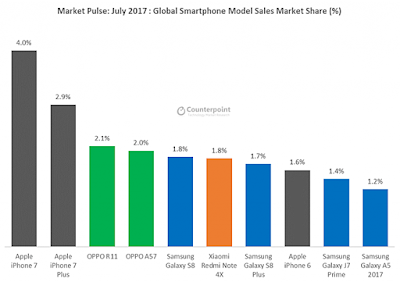 According to counterpoint, "The growth of Chinese brands is an important trend which no player in
the mobile ecosystem can ignore.
…While Huawei climbed
to be the world's second largest brand overall, it is surprising to see none of
its models breaking into the top ten rankings. This is due to a multiple SKU
portfolio that currently lacks a true hero device."
No position is permanent… who knows maybe 2020 Infinix or
Tecno might rise to be the largest smartphone brand in the world.