Where are the window10 mobile users? I guess they are still hibernating…
With what you are about to read, you'll be able to install Android apps
including Google playstore on your windows10 mobile in less that 5min. this
post is for you if your device is listed below.
list of supported devices:
•Nokia Lumia 920
•Nokia Lumia 925
•Nokia Lumia 929 (icon)
•Nokia Lumia 830
•Nokia Lumia 930
•Nokia Lumia 1520
•Nokia Lumia 635 (1GB RAM variant)
•Nokia Lumia 730
•Nokia Lumia 820
•Nokia Lumia 435
•Nokia Lumia 928
Credit goes to XDA senior member
SDRdaniel
for providing
this simple tutorial on how to go about it.
Before you begin,
==>Note that you are doing it at your own risk because I won't be held
responsible if anything happen to your device
==> Do not disconnect the
device while an apk is installing.
==>Do not reboot while your phone has Developer Mode Activated.
Lets Begin
==>Download APKtoWind10
here
==>Extract it & Install it your computer>>>
run it and then follow the onscreen instruction
as seen in the image below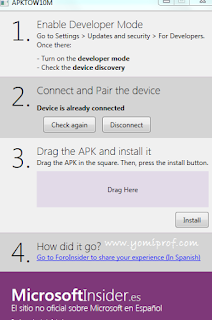 ==>Drag your Android apk file inside the step 3 box and
hit the install button
Note:
to see how to download apk files on PC please
click here
.
If you are still confuse, kindly use the comment box to ask
your questions.