In the words of the wise, Money makes money, and more money makes you more money. The other day, I talked about Multiple Streams of Income and how to redesign your blog so that advertisers can be attracted to put their ads on your blog. Luckily enough, after reviewing someone blog, he got an adsense approval.

Today, I'll show you one of the easiest way to make money with your blog regardless of the niche you fall. If you follow what you are about to read diligently, you are sure of making nothing less than 50k weekly without you worrying about your adsense earning.Wether you have adsense approval or not, it doesn't matter; but wait, in due cause, I'll show you how to get approved by adsense easily.
Back to business, I'd promised to write on this topic AFFILIATE Marketing. Affiliate Marketing is the process of earning a commission by promoting another company's product. Do you know that I earn my first 50k within a week via affiliate marketing…
Your blog sidebar is not just for fun, it's men't for money making. One amazing thing about this kind of business, is to find a product people are buying; ask yourself this question, "what product are people buying?" Once you are able to answer this question, then you are ready for business.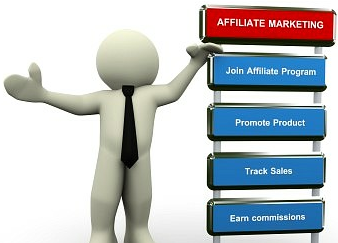 Before you venture into this, the key to successful affiliate program centres around the trust your readers have for your blog and the relevancy.
Remember you have nothing to loose trying this but you've everything to loose not giving it a trial at all…
Types of Affiliate Marketing
Their are different types of affiliate marketing but I'll just touch the one's I've tried and are suitable for your country.
1.Amazon: Amazon is one of the largest e-commerce site in the world used by billions of people. If you have a website or blog and want to monetize it, the Amazon
Associates program is a good way to add affiliate money making
opportunities. With this program, you can add links to any item on
Amazon's site to your website and get commission when someone clicks the
link or makes a purchase.
You can read more about Amazon Affiliate Program here
2. Konga AFFILIATE Program: I think this discussion is getting sweeter. Konga one of the largest E-commerce site in Nigeria and gradually extending to other part of the country; allow bloggers to earn by placing ads on their blog. Once your reader follow the link on your blog, and eventually purchase something on their E-commerce site, then you earn a commission. I love this because if you are lucky enough, and someone purchase a product worth 70k and above your commission grow. One thing with this Konga Affiliate programe is that anytime the person purchase again, your earn another commission; and on registering, Konga will give you a commission of #500.
To begin with Konga Affiliate Program
==>Register here
3. Jumia AFFILIATE Program: The truth of the matter is, people will always purchase some thing online. I buy online almost every week; and the same thing is applicable to almost everybody.
Jumia Affiliate Program works just like Konga but Jumia associates get up to 9% commission for one sale when
customers use the links for purchases. For the first month, associates
earn 500 NGN on top of the commission for each order.
Why Should I Try Jumia Affiliate Programe?
==>You don't necessarily need a blog to try this, as you can place your ads on any social media
==>3% to 9% commission on every sale
==>Monthly Payment via Local bank transfer done by Jumia directly and not any third party
==>Minimum payment amount of 5000 NGN
==>Bonus for the first month 500 NGN on each sale on top of the commission
==>Great variety of attractive Banners and Text links
==>Don't dull yourself, you have nothing to loose trying this program.
How To Register
==> Click here to register
Jumia will pay directly into your bank account once you reach the payment threshold.
Well, I've said enough, though their are still more but I think I should pause here. Do justice to anyone of your choice above.