This is one of the most important functionality a PC should
have. Its normal for Smartphones to have Wireless hotspot but you can't find
this features available on PC. Having a wireless hotspot on your PC is a great
way to share your internet connection from PC to other computers or devices.
If you are with your PC, ride with me and I bet we won't
crashland.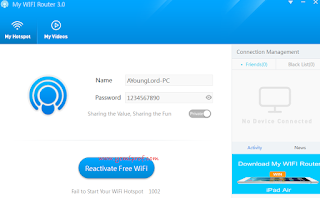 My WIFI Router is a program that helps you easily create a
secure free
WiFi hotspot
on your PC. You can easily share the internet
connection anytime and anywhere. You can share single internet connection(LAN,
Ethernet, Data-Card, 3G/4G, Wifi) for multiple devices like laptops,
smartphones, android phones,PDAs, Ipads.  In other word, With one PC internet
connection, you can connect other devices be it Tablet, phones or computers
with this application. 
Features of My WiFi Router 3
==>It's an unavoidable internet sharing  application
==> It can connect with a number of devices at a time
==>You can share LAN, Ethernet, WiFi or 3G/4G internet
==>You can also monitor the connected devices.
==>You can blacklist devices you don't want on your
network
==>You can also share videos wirelessly from your PC to
other devices.
System Requirements
==>System Requirements Windows XP/Vista/7/8
==>Memory size should be atleast 512MB
==>Hard disk space 20MB atleast
Where Can I Download it?
Be the boss of your PC and not just an ordinary PC user…