If you are using an android phone and you don't have OTG cable or you have but don't know its functionsm, then you are in for a long thing because your device is Mute, dumb and toothless. If your device can't talk to another android device, then I don't think your device is smart yet, but I won't call it dull either.

OTG (On The Go) USB cable enable devices to communicate with one another in a language you cannot understand. However, if you have an OTG cable but you don't use it, then you are under utilizing your device.
I'm going to show you awesome things your OTG cable can do
1. Super-Fast File Transfer: Do you know that when it comes to transfering heavy files like HD Movies and games, OTG cable is the best. I know alot of people use Flash share, Xender to transfer over wifi but when it comes to OTG cable, it's absolutely uncomparable.
2. Using a Mouse or a Keyboard on Your Android Device: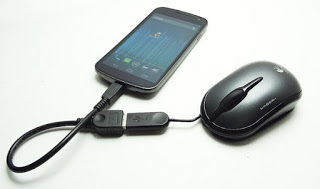 Do you know that when a USB mouse is connected to your Android Device using a USB OTG cable, a mouse pointer appears on the screen.
This may not really make sense, but you can try it out, experiment and see the result. Also To change the mouse pointer speed, go to the Settings menu, touch Language & input, and then touch Pointer speed. Move the slider left or right to achieve your desired pointer speed.
3. Using a USB Modem on Your Android or Tablet: If you have a WiFi only tablet and think it's completely useless without a WiFi network, your 3G modem might just work on it if you have an OTG cable.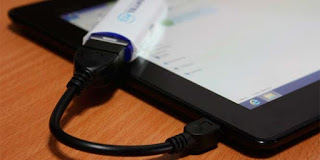 You can easily get this done with the aid of a widget called PPP widget. Get it here
4. You Can Share Battery Charge Between Two Phones: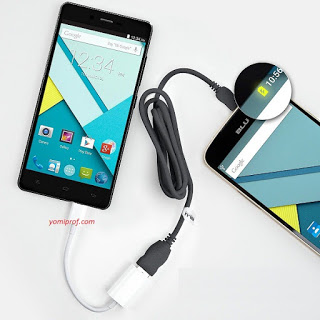 This may not be new though but you can easily connect your device with the aid of OTG cable to the host and then plugging the phone to be charged into the female port of the OTG cable.
5. Using a Flash Drive: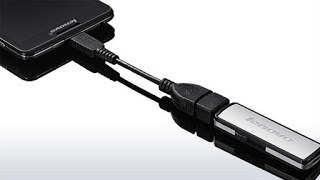 This is it, your hard drive is not mean't for your PC alone, regardless of the size of your hard drive or hard disk, you can use it on your Android, tablet devices only with the aid of your OTG cable.
You can Also use a Game Controller on your Android Devices: For game lover, OTG can perform wonders with your game pad.
How to Tell if Your Android Devices Support OTG
==> Download OTG USB Checker here (Note your phone must be rooted)
Where Can I Buy OTG Cable?
You can get it from Konga here or Jumia here.
Are you uisng it already? Let us know