I recently made a post on
how to recover hacked Gmail
account from hackers and I'm pretty sure it will help you a long way. It is
equally advisable every one using Gmail account or any of google services to activate
extra layer of security to their Gmail account.
When you enable 2-Step Verification, you add an extra layer
of security to your account. You sign in with something you know (your
password) and something you have (a code sent to your phone).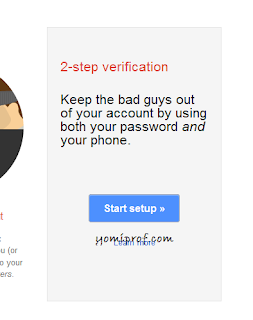 How Can I Activate 2-Step Verification?
1. Go to 2-Step verification
here
2. In the "2-Step Verification" box on the
right, select Start setup.
3. Follow the step-by-step setup process.
But Nigeria Option is Not Enable on
2-Step Verification
Yes, kindly see
guide here
on how to
get your own US phone number here in Nigeria, and use it to confirm your your 2-step verification on google. 
Still confuse? Ask your question…