One of the most suitable features about smartphones is for
the fact that you can conveniently connect to the internet and surf without you
thinking twice. It will be important to know the internet plan that will be
suitable for your kind of device this new year. 
Let me begin with the cheapest and easiest that works on all
device.
Etisalat 1GB For N1,000
This plan works on all smartphone and PC without any strange
configuration. To subscribe for this package,  Dial *929*9#. The good thing about the
plan is that it charges normal.
And those of us that is not new to psiphon, you can as well
work with this magic IP below with your etisalat sim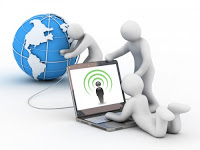 Magic (IP)          PORT

50.30.152.130  8086
52.25.79.253     8080
198.7.57.19       3128
71.19.154.122  8086
Go to your Psiphon under Proxy Server, and use
instagram.com or mobile.etisalat.com.ng%2F%
[email protected]
Every other setting still remain the
same. To power all your apps, you need to get auto proxy or proxy droid.
Airtel NG
Well, those of us who are not into
downloading but just wanted something handy that doesn't zap, I'll recommend
Airtel 1GB for N1,000. It doesn't zap like the rest abnormal plan. 
To subscribe for this plan, dial *141*1*3#
MTN
Those of you who are using MTN, of cos BBLited still works
perfectly well with Simple Server and Psiphon.
Just check here
for
configuration.
Glo
This has been my favorite network of all times but they've
added lots of changes to their plan. If you don't know, you can now get…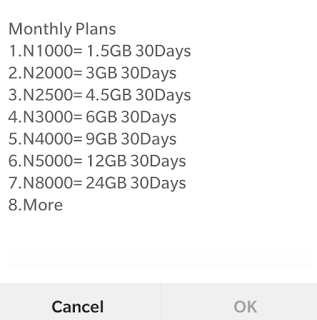 Meaning with just N1000, you can get 1.5gb of data to last
you for 30 days. Note that this plan will work on all device excluding the old
abandoned blackberry phones.
But there is something more interesting called Data buster.
Glo data booster add volume to your current data plan. For example, with N500,
you can get 1GB monthly plan added to your existing plan. 
Dial *777*1*1*6# for
more info 
Glo 12GB for N3,500
Well this plan is for everybody
regardless of the type of device you are using. It works on all Android,
blackberry and PC devices. If you are getting this plan directly from Glo, it
goes for N5,000 but this one is exceptional. To get it, just drop a mail and I'll
forward the how to get it to you.
Best Weekend And Night Plan
This is meant for those who have
something big to download or movie streamers. Its not advisable you use your
normal data in downloading but this one is more profitable.
Mtn initially introduced
N300 for 3GB
weekend data plan but something led them to cancel it. However, there are more
alternative to it.
Glo N200 For 1GB
This plan is for night crawlers and it
last you for just 1 day from 12am -5am
Glo N500 for 3GB
This plan is purely meant for weekend
browsing from Sat – Sunday + 7nights from 12am – 5am. If you have something big
to download go for this plan and you are good to go.
To subscribe for any of the above packages, simply dial *777# follow the prompt
Airtel N100 for 1GB
This is one of the best plan
Airtel
introduced last year and its been rocking like thunder for some people. It
doesn't consume MB at all. This is how normal MB is suppose to run during
weekend. 
To subscribe for this plan dial *474*1#
and 1GB will be given to you usable during weekends alone.