It can be so frustrating when you get to a new location and you discovered that your much loved 3.5G or 4G network is not available instead leaves you with a feeble, crawling network; or perhaps you just recieved your call up letter From Lagos to Enugu only for you to get to Enugu and discovered that Glo services is worst over there.
Regardless of where you are, who you are, the time will come you'll move to a new location and it's advisable to know the network that is best in terms of good reception in your new area of assignment.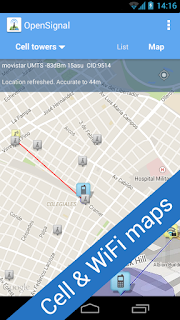 How Can I Know Network That is Best And Fast?
Open Signal is the ultimate wi-fi and signal finder toolkit that will bail you out ahead of time of poor signal network in a new location.
With OpenSignal you can map cellular coverage, find Wi-Fi hotspots, test and improve your reception & get faster data.
✓ Signal compass points you in the direction your signal is coming from, just walk towards it!
✓ Wi-Fi map allows you to easily locate nearby public networks.
✓ Coverage maps allow you see the best/worst places for signal.
✓ Speed test feature allows you to see the true speed of your connection (download, upload & latency)
✓ Network Rank shows which carrier is best in your area
✓ See local cell towers
✓ Free and ad-free
Where Can I Download it?
For iOS users, download it here
For Android users, download it here
Blackberry and windows phone users are not eligible.