Happy new month guys, Its February and something great and better promise to come ahead. make your plans, set your goals and pursue them. Don't give up on your dream yet. If people say you can't succeed, just hug them and smile because life is too short for the blind.
I sincerely appreciate everyone for taking out time to drop their comments on this blog. Every body is important and I won't hesitate to keep rewarding you all.
We have the top commenter for January which is Viklin (Naijaknowhow) and R&B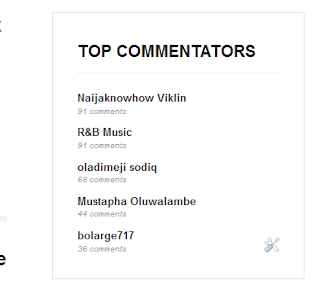 Oladimeji Sodiq
Mustaphone O.
Bolarge717
There are others but I just choose to display the top commenters. Hence I'll only reward Vicklin because R&B is already on 3Month Free Subscription from yomiprof.net
So Viklin, kindly send me a mail and let me handle your February internet subscription for you (any network of your choice).
If he doesn't want, Oladimeji Sodiq will take his place.
To those whose name didn't display, don't worry something bigger is coming. Meanwhile don't sleep early today because Shokii is coming… its just the fastest finger.
Everyone of you is important and I love you all.
Related Posts