This I know looks more or less like the chronicles of the cheapest internet browsing for the month of February so I'm not going to make too much noise on this, hence I'll go straight to the point.
If you're a blogger, internet surfers, companies or just an ordinary internet user, there is a plan that suite you that is why you need to keep this Diary with you for the month of February 2016.

First of all,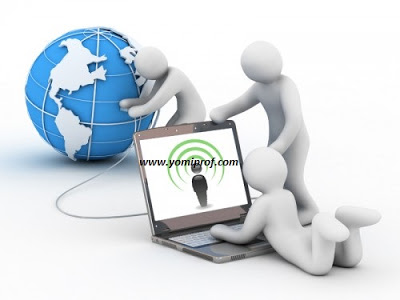 Suitable Data Plan For All Bloggers & Heavy Downloaders
Yomiprof.com decided categorize this so that you won't just waste your time reading everything. For every blogger and heavy downloaders, you need an unlimited plan for the months.
For those who have Spectranet, Smile and Swift Network in your location (Spectranet Abuja Only). There is an unlimited plan for you. When I mean unlimited, you can download 20 Terabytes daily without any fear of getting exhausted.
If you are online 24/7 days, you are a die hard streamer and movie downloaders, then this plan is suitable for you.


How Can I Get it and How Much?
It goes for N5,000 and it will last you for 30 days; Just request for it from the comment box with your mail, I'll get through to you.
Glo 12GB
This plan has been ON for quite sometime now and I'm sure you are all aware of it. But there is a little changes which is not too favorable, it only works on rooted mtk devices. If your device is not an mtk device, and you are not rooted, it won't work.
To get it, drop your mail and I'll send it across to you.
Normal Internet Users Data Suitable Data Plan
Yes! Those of you using MTN BIS on Android with Simple Android Server, SAS has been upgraded to V4.0 with free VPN. But there is something interesting about it. The SAS Premium has been cracked meaning you can now use Premium version for free without any ads or speed throttling. It was cracked by a loyal yomiprof.net fan Miniano Gidafi (Kudos to him).


Where Can I Download SAS Cracked Premium Version?
Download it here


Use normal SAS Configuration or this
==>Create New APN settings On Your Phone As Follows..
Proxy: 127.0.0.1
Port: 8080
APN: Web.gprs.mtnnigeria.net
Save And Activate it, set ss your default settings.
Go to simple server and configure the settings:
==>Proxy host: 10.199.212.2
==>Proxy Port: 8080
==>Injection Method: get
==>Injection querry/url: http://web.blackberry.com
==>Injection Host: web.blackberry.com
==>Injection line: press your enter key 4 times
==>Log level: debug
Close the settings and click the connect button.
To Subscribe For MTN BBLITED use this code here
Note that MTN BIS is capped at 5GB both for daily, weekly or monthly (if you are lucky, you can use more than that)
Psiphone Settings For MTN BIS
Those of you who enjoy using Psiphone with MTN BiS, see the guide here
Etisalat Magic IP
Those of you still using Etisalat chatpak or Socialpac, with N0.0 there is a new working magic IP for you
12.34.252.196:8080
158.69.218.72:3128
209.34.18.162:3128
37.128.116.34:3128
62.210.220.29.3128
212.129.35.75:3128
46.246.38.141:3128
104.208.247.38:3128
Glo 6GB For N1,500
I'll recommend this plan to those who often download during weekend bases. You can activate Glo 6GB For Just N1,500
This is how,
So I first of all subscribed for Glo 3GB for N1,000 on my device and then activated the Glo weekend plan of N500 for 3GB by dialing *777# and then follow the prompt…
The weekend plan was activated the moment I connected to the net.
Note
You cannot use the two plan at thesame time. What I did was to pulse my Blackberry subscription by changing my apn to glosecure. Immediate the plan was activated and the speed is completely out of this world.
It works on BB10, All MTK devices and for PC users who can connect through their Android Phone. However, the 3GB for N500 works on all mobile and PC devices without any limitation.
For All iOS Users
On Glo platform, this plan I'll recommend…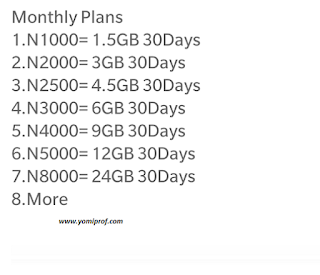 If you are just a normal user, go for Glo 1,000 for 1.5GB. If that won't be enough for you, I'll recommend you go for Glo N2,000 for 3GB and it will last you for just 30 days.
Best Weekend Data Plans
The first on yomiprof.net list is;
Airtel N100 for 1GB which can be accumulated. It doesn't zapp it is sweet and I keep loving the plan every day. I download a comple season movie 23 Episode with 1.5GB over the weekend.
To sub for this plan, dial *474*1#. to check for your bal, dial *140#
Glo N500 For 3GB
This is equally cheap but you'll only enjoy it if the you have a good network reception in your location.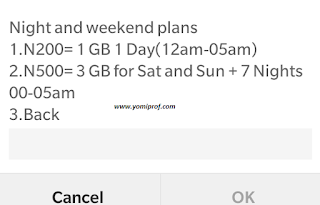 To Sub, dial *777# and follow the prompt.
Etisalat weekend plan is nothing to write home about hence, I'll intelligently ignore it. Of what use is 1GB for N500 when I can get 1GB for N100?
This is just my Diary, yomiprof.net of the cheapest internet Subscription for February 2016. Have a question for me use the comment box and ask your question.