By now, you should have received your
Payoneer Master Card
because this is exactly
5 weeks
some of you ordered for your cards. If you've inputted the right address, it should be in your hands or check the closest Post office to your table down address. Mine was delivered to my office the day I received so yours shouldn't be an exception except otherwise.
Now that you've received your Payoneer Master Card, the next thing for you to do is to activate it and get ready for trading. I'm going to show you how to activate your Payoneer card in easy steps below;
How Do I Activate My Payoneer Master Card?
2. Make sure that the right card is selected in the drop-down menu at the top of the screen as seen below
3. Make sure the last four of your Payoneer Master card is the same with what you have at the drop down
4. Click on Activate

5. Enter the required information which includes your 16 digits pin and your new 4 digits password
6. Accept the terms and condition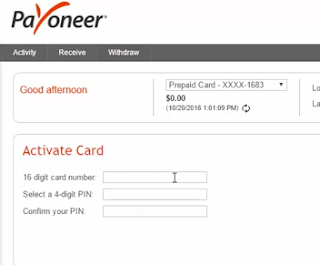 7. Click on Activate
You should get a confirmation message message that your new card has been activated.
You can also watch the 2min video on how to activate your Payoneer Master Card
What Else?
It's now time to fund your card and begin trading, shopping with it anywhere around the world. I can always recommend you to a trusted seller where you can get Payoneer funds from.
Congratulations!