Valentine is here, so close and I
can perceive lots of love in the air. To those who are baeless, booless and yet
they are not single… I think you should keep yourself busy with this. I know
you love to download even stuffs you don't need because you now have lots of
options on which
unlimited data plans
to use.
However, in the spirit of VAL,
there will be a Val splash for those who uses Spectranet (Abuja, not sure about
PH) Smile and Swift 4G network. The unlimited internet surfing/downloading will
last you for 30 days when subscribed.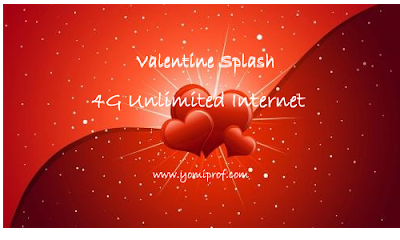 The speed is unthinkable; the
download is unimaginable and you just have to fall for this unavoidable
temptation. If you own a company, café or you are just too addicted to
downloading movies or software applications, or you are a unique insightful
blogger, you need this VAL splash.
How Much?
N4,000 only
This offer will expire 15th
of February, 2016. Drop your mail if you need it.
When it comes to download, no
plan suite you than having an unlimited download every day for 30 days without
any speed throttling. To those already
using it, there is a torrent server for torrent download there.
Stop the hiss, and go for the hit
4G unlimited plan. Happy
VAL
to all the Single guys and babes!