Xiaomi
the apple of China seems to be going back to the smaller size incher probably
to get back to the recently launched iPhone SE 4incher.
According
to what gizchina reported, a mystery Xiaomi phone with 4.3-inch display has
been revealed on Chinese tech sites. Rumors
are the phone will boast a 720p HD display, 13 mega-pixel rear camera (No OIS),
3GB RAM, 32GB memory and a 1.8Ghz Snapdragon 820 chipset.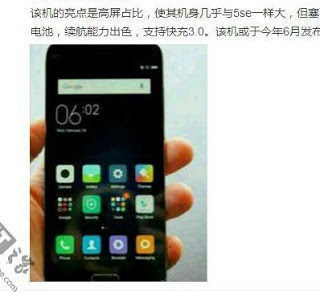 From
the picture, there is a physical home button on the chin like the Xiaomi
Mi5 where we expect a fingerprint scanner to be located. If you've been an avid
lover of Xiaomi devices, you'll noticed the similarities between the new phone
and the old Xiaomi Mi2; same size, same resolution display and I bet most
people will love to go back to 4.3 incher devices.
The
phone will be reportedly launched in June for around $275.
Something
should be special about 4 incher devices considering the facts that all Android
devices are 5inches, 5.5inches and only recently some brand began diving into
6inches screen. If you are opportune, will you go back to 4-inche screen?