Today
is the last day of
Jumia birthday
deal, great products await you. Are you still
wondering if you should get a product for yourself or not? This is the time to
act very fast. Below are the flash sales deal available for today;
Thursday 7th of April => Flash Sale Deals
·
Tecno
Droidpad 7C Pro – actual price N27,000, but it
will be sold N13,500 comes up 9AM.
·
Upscale
Brands – 30% off, comes up 12PM
·
Citizens
Cooker – actual price N13,400, but
it will be sold N9,700, comes up 3PM.
·
Asus
Laptop – actual price N97,760, but
it will be sold N63,600, comes up 6PM
The
flash sale deal happen very fast, so you need to be extra fast enough before
someone. To be part of these flash sales,
click here
Verve
Card Holders can also utilize this opportunity to get 10% discount on
smartphones and fashion items when you purchase them
here
. Valid till April 8th.
You
can also partake buy using any of the voucher below to get 12,500 off your
order.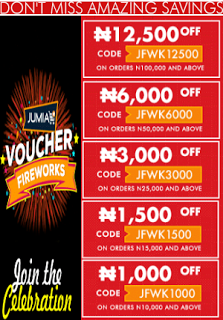 Jumia always have something for everyone.