Guys are not really taking it easy at all. They've almost
crucified the life out of this mobile brand. They came to bail you out when
other brands neglected you… They came in when smartphones were expensive… and all
you could say to my beloved mobile brand is to vent your anger without
control?
Lots has been going on
InnJoo facebook
everybody
complaining, commenting their bitter experiences on InnJoo battery swelling up
without any solution from CC. Nowhere to buy a replacement battery and it seems
a lot of people are not happy.
According to a facebook user Oladiipo Tobi Teedee "Imagine in less than 6 month that I ordered for my innjoo
fire plus from jumia, I had d's battery problem, I have searched every stores
just for d's battery, to make it worse even they themselves said they don't
have it in store. I can't advice my enemy to waste money on d's bad maket."
Uchenna Okoro "I first of all
bought injoo t1 tablet..in one week of purchase d charging port got badly
damage i had to lie and sell it to sum1 only god knws aw dat person survived
dat fone…ds time last yr i bought injoo one 3g during the jumia mobile
week…after 2weeks sum
parts of d screen wasnt functioning i had to manage it like dat 2months
leta..faulty charging port..i used d phone fr 8months menh it was hell..like i
used it fr 8yrs well tank god i sold it to anoda maga…and bought infinix
note2 i was d first set dat bought d note2 last yr december and uptill naw…
6months gone but it feels like yestaday….no fault no headache…my problem is
nt abt the accessories but d durability.

Injoo is nt durable..i av swore never
again shall i buy any of ur brand….i mean never!!!! Even if u like put am fr
5k i no go buy…bye"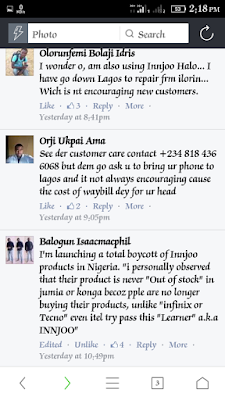 Balogun Isaacmacphi Honestly,
I'm a phone dealer in Nigeria, and Nigerian's have stopped buying your products
because Not until when you address this issue of Constant unavailability of
accessories for your phone's in the Nigerian market & hardware parts to fix
damaged phones, you
will never get to the level of these Mega phone companies like "Lenovo, Tecno,
Infinix and GIONEE" in Nigeria. And you need to open more branch's especially
in South-south Nigeria. More importantly, open a strong and direct
communication via "whatsapp, facebook, twitter e.t.c" with your
customers in
NIGERIA.
Your current Nigerian rep's are not doing a good Job, they're
just there earning free salaries without properly promoting your brands to the
fullest like what this phone company called "WIKO" are doing on
facebook and other social media. "WIKO" is not even up to your brand
level or that of Tecno, lenovo e.t.c but they have the best customer service in
Nigeria. I'm a Nigerian, i'm a user of your product & I'm giving
you(INNJOO) my honest advice. "TAKE IT OR LEAVE IT"
You can see some of the munched
images below.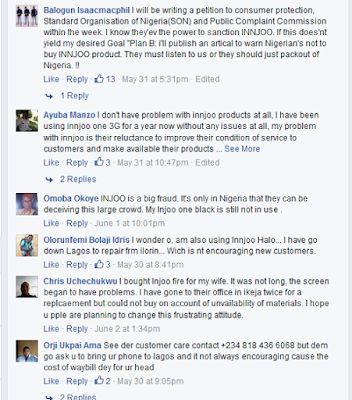 InnJoo is working hard to satisfy
their customers, you guys should please take it easy with them. Those of you
using InnJoo products, you can share your experiences with us below.