Facebook
is not just a normal chatting social media platform
but a lot have been integrated into it lately… Most especially the video aspect. It is
one of the best platform to share your moments, pictures, and even record
videos of yourself or upload funny videos.
A lot of people must have been wondering how they can easily
download Facebook videos on their Smartphones or PC, but don't know how to do
that. This post will show you how you can easily download any
Facebook
videos
to your smartphones and PC in easy steps.
How Can I Download Facebook Videos on my Phone?
I'll guide you through 2 easy steps below;
Method 1:
>>Open the video you want to download from your
Facebook
>>Paste the link inside the field as seen below

>>You'll see an option to download … chose and your
download will begin.
Method 2:
>>Download Facebook video downloader to your Android
device
here
>>Login to your Facebook account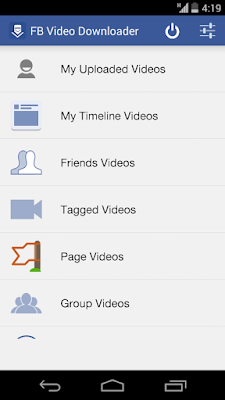 >>Scroll to any video you'll like to watch offline,
open it and the download option will automatically pop out.
>>Click on the download button and your download will
begin.
If you know other to download videos from Facebook, please
do share with us using the comment box