If you don't have this on your Android device, then you haven't
started using Android device yet. I'm not talking about the just arrival of
BBM for Android
but something that
will make your Android device worth having and what using.
I'm talking about the mind reading keyboard called
Swiftkey
.
– SwiftKey takes the hard work out of touchscreen typing, replacing your
phone's keyboard with one that understands you. Just like when your partner is
reading your mind. Swiftkey keyboard provides the world's most accurate
autocorrect and next-word prediction in 60 languages.
– It connects seamlessly across all of your devices, with SwiftKey Cloud.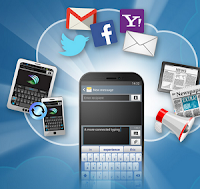 Why You Should Use Swift Key
==>SwiftKey predicts your next word before you've even
pressed a key
==>It intelligently learns as you type, adapting to you
and your way of writing
==>SwiftKey doesn't just learn your popular words, it
learns how you use them together
==>SwiftKey supports contextual prediction in 60
languages and counting
==>Type entire sentences without lifting your finger from the screen,
simply by sliding to the space bar between words.
Where Can I Download SwiftKey?
It is available on
Google play
store but it is paid, you can
download it for free
here
Run and install it and I bet you are going to love what you
will see after your installations is complete.