Hello guys, this might look like a miracle but it is real
and working fine as at the time of writing this post. Though my weekend has
been completely off the radar, just accessing the internet now since Friday..
that is why this is coming so late but better late than never.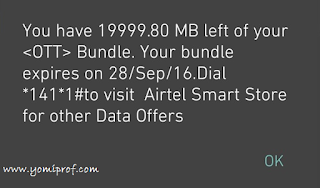 This Airtel 20GB has been trending… and I'm pretty sure you
will want to give it a short. Note that this is not a cheat or a tweak but it
is absolutely legal… Could it be the result of Mark Zuckerberg visiting Nigeria?
Anyway, let's begin…
>>Load #200 on your Airtel sim
>>Dial *688# and then reply with 2 to get 20gb valid
for 25days.
It works perfectly on 3G Network and very fast. It will
power your Instagram, twitter, facebook and whatsApp respectively
including your Opera and UC browser. You can also stream and download with it…
What IF I can't download large file with it?
Well, a committed blog reader Noble sent me a tip, I'll try it out and post
it in the comment section if need be.