Banggoods online store will be celebrating her 10th year anniversary
this September and as a gesture of thanks, it is going to organize a massive
sale where products from various categories will be sold at discounted prices.
To Banggoods, it's not just about the events and deals but also
gives you the opportunity to ask us anything in Banggood's first AMA(Ask Me
Anything).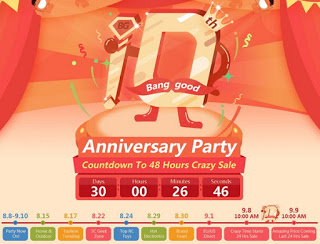 48Hours 2 Days Epic Sales
There
are some huge savings coming on the 8th and 9th of September, Snapup will be
returning and so too will some amazing deals everyone can enjoy. Here are some
highlights,
·
10% off site-wide coupon.
·
Snap-up deals.
·
Great savings on all categories.
·
Ask Banggood anything Q&A
Anniversary Rules & Tips
1. The Anniversary 48 Hour Sale begins 10:00am Sept 8th and ends 10:00am Sept
10th (Beijing time,UTC+8).
2. Crazy sale prices of "48 Hour Sale" products are only valid during the
Anniversary 48 Hour Sale.
3. The "48 Hour Sale" is 2 day only. The Sale will cover all categories and all
hot products.
4. Before you join, you must read, agree, and accept all the rules of SNAP UP,
Crazy Lottery and All Campaigns. We won't handle and give support for problem(s)
beyond rules.
5. If you want more information about the Anniversary, you can receive the
latest events via our newsletter, or visit www.banggood.com to discuss on BG
Forum.
There are lots of goodies to be won during this anniversary…
What are you waiting for?