MediaTek has announced its latest chipset in the Helio X
series, this time, it's the Helio X30. The biggest change with the new chipset
is that it has been shrunk down to 10nm (nanometers) from its predecessor, the
X20's, 20 nanometers.
Helio X30 promises 53% improved power savings and 43% better
performance than the Helio X20. It supports LPDDR4 RAM up to 8GB and up to
28-megapixel dual ISPs.
The X30 uses a three island design, it has:
·
4 x Cortex-A73 @
2.8GHz
·
4 x Cortex-A53 @
2.2GHz
·
2 x Cortex-A53 @
2.0GHz
The X30 is able to support up to 8GB of RAM with its four LPDDR4X
bays, 4K video recording and playback at 30fps with the PowerVR 7XTP-MT4 GPU
(850MHz), and dual-cameras up to 28MP. See detailed comparism between Helio X20
and X30 from the photos below;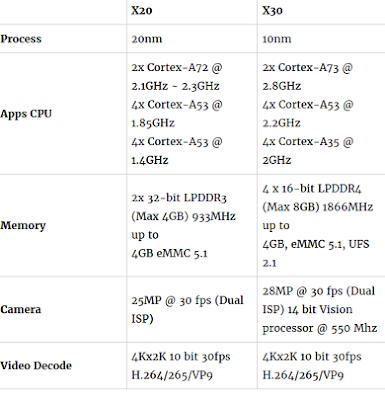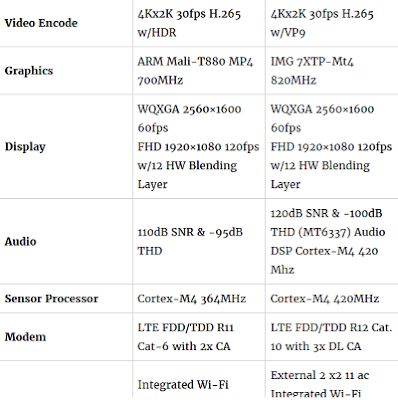 MediaTek also introduced Helio P25, an upgraded version of the
Helio P20 that was introduced earlier this year. This uses thesame 16nm TSMC
process, but this will be clocked slightly faster than the P20.
The high-end Helio X30 is expected to be released in the first
quarter of 2017 in which
Vernee Apollo
will be the first device come with Helio
X30, we expect other devices to start shipping with the chip soon.
What do you think of MediaTek's new chips?