I noticed lots of people making use of
Android
phone
today don't do back up, they don't even care if their device get brick or not. I
overheard someone said so long its
4G
supported, they don't give damn about
what happen to the device. Your
Andriod
device is like a car engine, that needs
constant services every-time, it is like human body, if you don't take care of
it, it will break down at any time.
This is one of the major reasons we lay more
emphasis on creating a
CWM recovery
on your new Android device should in case
it get
bricked
, you'll have something to bounce back to called back up.
I'll just quickly show you a simple way on how
to create CWM Recovery on your Android device to those who don't already know
this.
Method One: How to Create
CWM Recovery Without PC
This first method may not be compatible on all
Android devices.
To install the
Clockworkmod
on
your android phone without the need of a PC , you can use the Rom manager app.
You don't need to download the
Clockworkmod
recovery as the
ROM
manager app can download the specific
Clockworkmod
recovery according to your Android phones make and model.
==>Step
1:
Install
ROM Manager
on your Android device and Run it .
==>Step
2: Select Recovery setup from the
ROM manager app.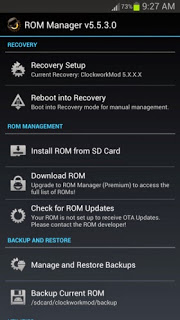 ==>Step
3: Under Install or update recovery
, tap on ClockworkMod recovery .
==>Step
4: Wait a few seconds for the app to
identify your Phone's make and model . If the app correctly displays your
phone's model then tap on it . Although the phone will recommend you to connect
to a WiFi network , a 3G data connection works perfectly , as the Clockworkmod
recovery is around 7 to 8 MB is size for all Android Phones . Click ok
to everything to proceed further.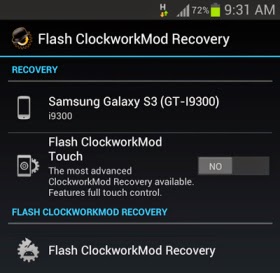 ==>Step 5: Tap on Flash
ClockworkMod Recovery . The app will now begin to download the
Clockworkmod recovery . Wait for a few seconds until the download completes .
After the ClockworkMod recovery is downloaded
, the app will automatically install it on your phone .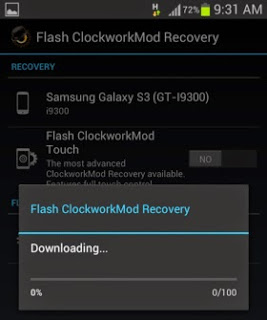 Step 6: To check
if the ClockworkMod recovery is installed on your phone , return to Rom
Manager's home menu and tap on Reboot into Recovery . Your phone will now reboot
and enter the ClockworkMod recovery .
Method Two: How to Manually
Create /Flash CWM to a Tecno Device
Requirements
1. Download
MTK droid tools
2. Download PdaNet
3. A PC
4. USB cord
5. The rooted phone
6. Download ADB drivers
here
How Can I Create CWM Recovery For My Android
Device?
1. Enable USB debugging on the phone and
connect it to the PC.
go to Phone Settings — Developer Options — Enable USB Debugging.)
2. With the phone connected, install PdaNet (Select Other from the list ; you
should see "Drivers Successfully Installed" at the end of
installation).
3. Launch
MTK Droid tools
4. MTK Droid tools should display the phone's details by the left
5. The box at the bottom should be yellow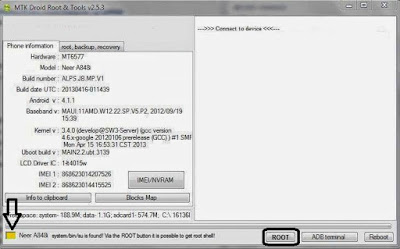 6. Click Root at the bottom of MTK and select Yes if prompted on PC and Grant
on phone
7. A green bar should load and the yellow box should become green
8. Click on the root, backup, recovery tab at the top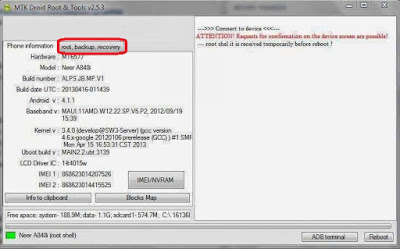 9. Click Backup and wait for the backup process to be complete
10. When promoted to pack backup, select No.
11. When backup is complete, tick 'To select boot.img'

12. In the window that pops up, select the boot file from the backup you just
made (MTK folder > Backups > Phone backup)
13. Click Yes to every prompt you get
14. When promoted to boot into recovery mode, click Yes
15. The phone should now boot into clockworkmod recovery mode
16. Ensure to backup your phone (Backup and Restore > Backup )
Please, if you are confuse or have any
questions regarding this, use the comment box to ask your questions.