Just some couples of days ago, Infinix
promised to roll out Android 7.0 nougat update to some of their devices, and now, they
keep to their word. Android 7.0 OTA update is now available for Infinix Note 3
users.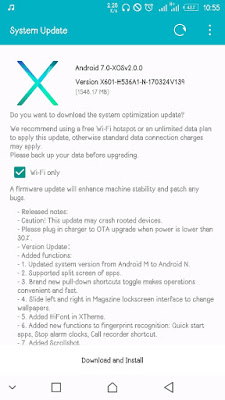 This updates will enhances the following:
>>Added Hifont xthemes
>>Supports split screen of apps: Ability
ability to use two apps at the same time on the screen
>>Brand new pull-down shortcuts toggle
that will make operation faster
>>Improved battery performance
Note that this update will upgrade your
Infinix Note 3 from Android M to Android N and its about 1.5GB of data.
Before You install The update
>>Make sure you totally unroot your
device if you are rooted
>>Make sure your device is atleast 80%
charged before proceeding.
Just like
Infinix
promised, other devices as
mentioned
here
will get the Android nougat update soonest.