WEMA Bank Plc has launched Nigeria's first
full digital banking service, named 'ALAT'…and it is 100% digital. With ALAT,
account opening/sign-up can be done in five minutes from a mobile phone.
Features of ALAT
1. Open a fully functional savings account using
just your BVN and phone number (We'll get to the unbanked in a few releases
down the line) in exactly 5mins (we timed this!)
2. Instantly fund your new account using any
existing local or international debit/credit card you may have, in-app. No
branch/ATM visits necessary
3. Upload any required documents in-app. No
branch visits necessary
4. Select from 2 debit card designs in-app and
have same delivered to you within 2 business days anywhere in the country (at
ZERO cost for the card and for the delivery)
5. Activate your new card and set your card PIN
(or change an existing PIN) in-app. No branch or ATM visits necessary.
6. Control what channels (ATM, POS or Web) your
card gets used on and also what country your card gets used in.
7. Schedule frequent transfers (e.g salaries or
mumsi's stipend) and bills (e.g DSTV subscription) and forget about them.
ALAT's got you.
8. Create savings goals and earn 10% p.a. in
interest on each goal, irrespective of the goal amount. Set your target, choose
your saving frequency and ALAT handles the rest…and makes you some good money
in the process.
9. The good news is, it works with all Nigerian Bank cards.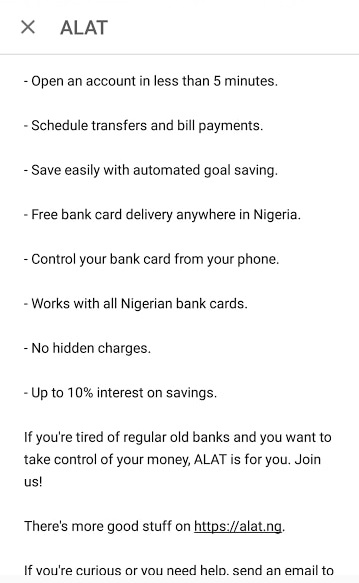 Where Can I Download it?
Download it, try it and lets know your
experience about the first ever 100% digital banking in Nigeria.