I think this network called
glo
is really torturing some people
and even their staffs are complaining bitterly. I'm not ranting but only
helping in amplifying someone's rant on Linkedin. I know a lot of people are
daily experiencing diminishing return in terms of network quality when it comes
to glo and this is not encouraging at all.
Came across this post on Linkedin and the writer
Alexander Nwuba CEO
of Smile Air thinks Glo is
heading for the pit like Starcomms did.
Globacom
is another Nigerian company headed to the pits, Why? Increasing poor domestic
service, I'm a user I know. Irrelevance in Ghana, I wonder if it's only
Nigerian students that use the service… I however use it for Data, it's
cheaper but not attracting customers…
GloBenin, I didn't even know it
existed… even the struggling small operators are more visible.. No expansion
in years, yes everyone is heading to LTE but I'm talking about real innovation.
And it's called GLO Unlimited, with the Motto: Unlimited Then, who's limiting
it?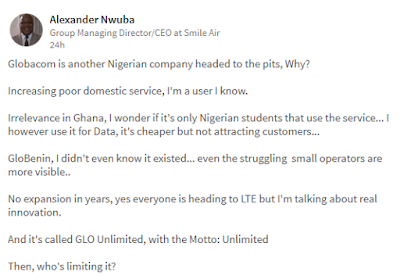 One of Glo staff who left the company thinks and I quote "I worked at Globacom
prior to roll-out in the early 2000s. I doubt if any one employee can change
things for the better at the company. Though it has the potential to be a top 4
player in the MEA region, but the localized thinking from the company's owner
and the diffusion of this kind of thinking down the line is killing the
company."
You as a Glo data and network user,
how has been Glo 4G LTE Speed within the last 30 days of your usage? Any
improvement or not?