Can we just call this the triple 8? To kick start the year, LG unveil its
new 88-inch 8K OLED display, which is both the largest and the
highest-resolution OLED panel to date. But as far as specs go, that's all we
have for now.
Previously, the largest OLED screen size was 77 inches, and it
"only" came in 4K. LG Display's latest accomplishment comes with not
one by two impressive claims. First, it's the largest OLED display ever
created, measuring 88 inches diagonally. Second, it's the highest-resolution
OLED
screen ever, with native resolution of 7680 x 4320 pixels. That's
right, ladies and gentlemen, it's an 88-inch OLED display with 8K resolution.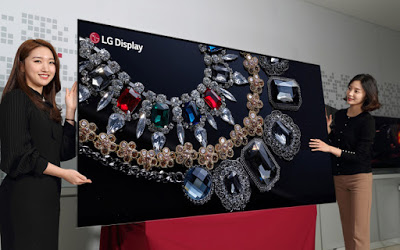 Now, you definitely shouldn't feel upset if you just got yourself a new 4K
TV during the holiday season, because it'll be quite some time before 8K TVs
hit the market. And of course, it'll be even longer before they're somewhat
affordable, and longer still before 8K content is readily available. It's still
often difficult to find 4K content to stream, let alone 8K.
You can still expect to see a few 8K screens on display at CES 2018 next
week, however, and this new 88-inch panel from LG Display will be the cream of
the crop.