So Airtel 4G is seriously rocking with free 4GB on
activation in Ibadan. The speed is incredibly awesome. I'm guessing by the time
it will launch in other states, the speed may or may not be throttle. Everyone
using it at the moment seems to be happy with the speed.
Cheapest Airtel Data Plan:
Airtel New Data Plan:
Recharge N1000 and get 4.5GB data
(1.5GB android data + 3GB YouTube streaming)
Recharge N2000 and get 9.5GB data
(3.5GB android data + 6GB YouTube streaming)
Recharge N2500 and get 15GB data
(5GB android data + 10GB YouTube streaming)
Recharge N3500 and get 17 GB data
(7GB android data + 10 GB YouTube streaming)
Recharge N4000 and get 19GB data
(9GB android data + 10GB YouTube streaming)
Each of the data will last you for
30 days and the YouTube free data is only usable at night.
How Can I Get it?
Dial *323# and follow the prompt.
Airtel SmartRecharge: the smartRecharge offer is still
running and its makes a lot of sense right here. It gives you 10x more of your
recharge for voice and data. With N200 recharge, you get N1000 for voice
and N1000 for data. N500 recharge gives you N2000 for calls and N3000 for data
+ extra N3000 for data.
Airtel Double Data Offer: This plans
is actually old but working if only you are eligible. Check how to activate it
here
9Mobile Cheapest Data Plan:
9mobile
1GB for N200
is still
rocking and the offer last you for 3 days. You can actually get 5GB for N1000
by re-subscribing at the end of each plan.
Dial *929*10#. It works for both old and new subscribers.
Do you still
remember 9Mobile Unlimited 2 Hours offer? Well it is still very much working
only if you have something important and large to download over 4G LTE super
fast connection.
With N400, you can download unlimited with your 9mobile sim
for 2hours using the following procedures;
>>Download
Anonytun
beta
here
>>Make sure 9mobile is stable
in your location and if you have 4G the better your speed.
>>Recharge your 9mobile sim
with N400 and subscribe to 9mobile YouTube by dialing *200#, and select
option 3 consecutively
>>Now you have successfully
subscribed to YouTube 2hours.
Configure Your Anonytun this way:
Launch AnonyTun Beta.
Tap on CONFIGURACIÓN (Stealth Settings)
Then turn on Tunel VPN ON/OFF
Change Connection Protoco to HTTP
Change Puerto to 8081
Turn on PAYLOAD (Custom TCP/HTTP Headers)
Click on EDITAR PAYLOAD (Edit Custom
TCP/HTTP Headers)
Now use below settings
URL/Host: myaccount.google.com
Request method: POST
Injection method: Normal
Tick User-Agent
Tick Keep-Alive
Leave other boxes un-ticked
Click on GENERATE, then Save
Finally, click on CONECTAR, wait a few seconds for AnonyTun Beta to
connect.
MTN Cheapest Data Plan
I've heard a lot of complains from
those who are rocking the double data offer and it suddenly seize working. I've
been rocking it for close to a year now and every time I subscribe, I get
double data. It doesn't zap… It is absolutely normal.
If your double data offer is no
longer working on MTN, follow the below guide to reactivate it.
>>Send PROMO via sms to 131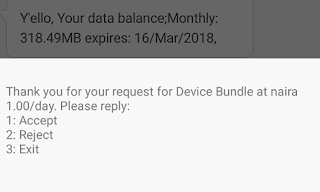 >>You'll receive a message
like this "thank you for your request for device bundle at naira 1/day"
>>Reply with 1 to confirm
>>Go ahead and subscribe and
you double data will keep rolling in.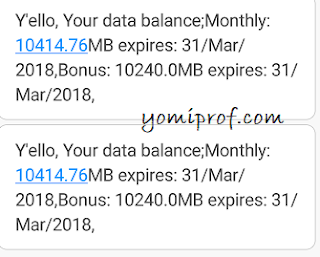 MTN 2000% Bonus Offer:
If you have an abandon MTN sim you
haven't use for upto 45 days, dust it up and insert it inside your device.
Recharges from N100 or above will give you 20 times value
of your recharge for the next 3 months. Assuming, you recharged N100, you'll
get N2,000, recharge of N200 gives N4,000, recharge of N400 gives 6,000 and so
on.
Glo Cheapest Data Plan
Dial *777# to see all the glo data plans available to you.
I'll be given airtime to Romeo Aje, Akinwale Adedeji
Boboraf, JoelThankGod, R&B
Music, Chinedu Ike, Fabulous Iykelly,
Carzola, Cornel Austin and BestBoss.
Please note that I sincerely appreciate all the readers,
your own name will be next onboard to receive our giveaway.
.