DomainKing.NG is going 'crazy' with their new promo for .ng domains. Their new sale is called the 'Crazy .NG Sale'.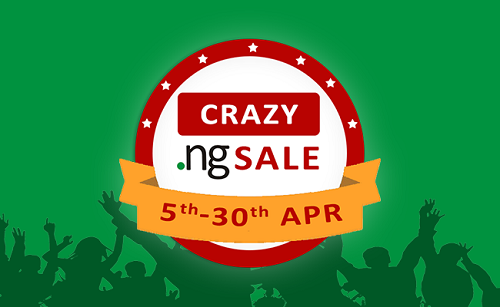 Sounds crazy right? Yes it is. With this promo you can now register your .ng domains at the lowest prices in the world.
Here are the prices you will get:
.com.ng for ₦499,
.ng for ₦7999
.com for ₦2699.
These are heavily discounted pricing for a limited time. You won't find these at any other Registrar.
With this price there is not much that you can get in Nigeria, But you can start your blog or website. So this promo should not be missed!
During this promo period, you can register as many .com, .com.ng and .ng domains you want. There are no limits. But the promo pricing is valid only for first 2000 registrations till 30 April 2018.
So, you must take advantage right now before their stock runs out.
I can't insist anymore to grab this exclusive deal at DomainKing.NG. But if you are still not convinced then read below.
Why you can't ignore This Deal?
It a steal deal at these heavily discounted pricing that are the lowest in Nigeria. There's no point ignoring it if you are serious about blogging or getting your own websites.
It is part of DomainKing's annual promo offering on .ng domains. So, you are not going to get a similar pricing probably until the next year.
Perfect time to switch to a custom domain if you are still on a BlogSpot domain.
All the domains at DomainKing.NG also come with:
Free DNS Panel
Free Whois Privacy Protection to safeguard you from Spam
Free setup of custom Domain with blogger blog
2 Free emails on your domain
Unlimited mail forwarding
I don't think you can get anything more at this price.
So, what are you waiting for? Just head over to DomainKing.NG and grab this deal. And come back here to share your experience with me!